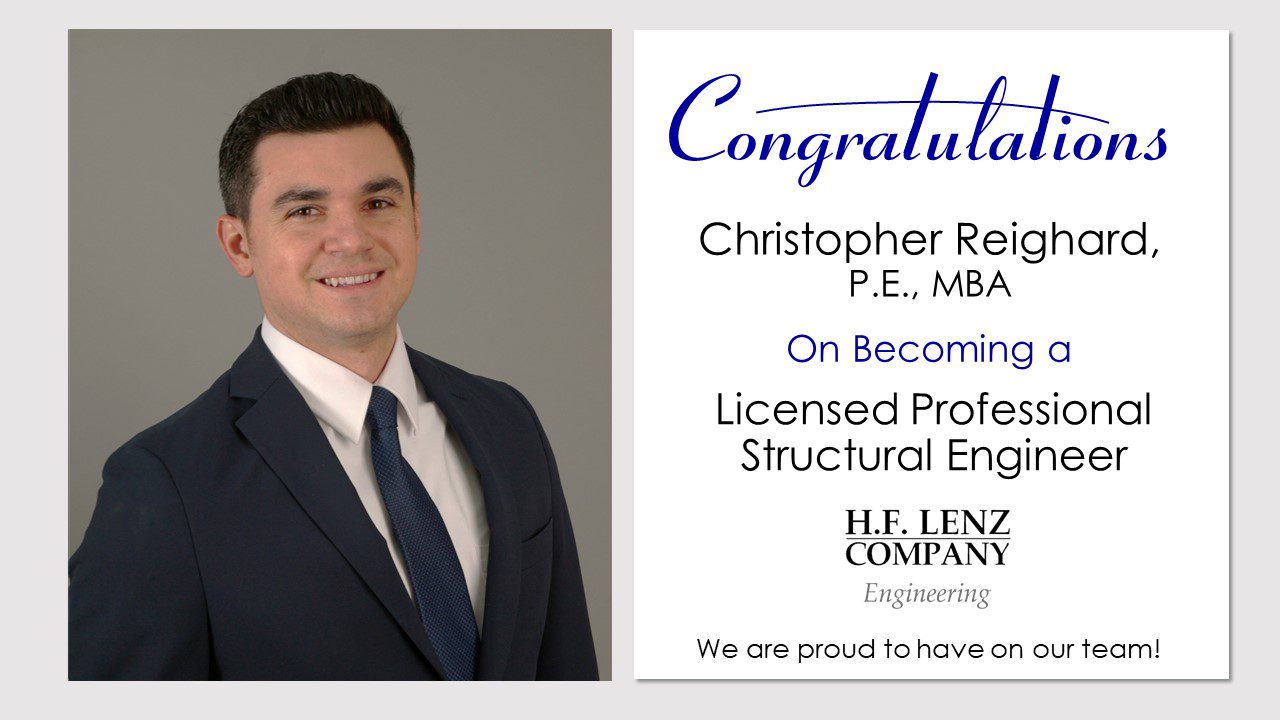 Congratulations Christopher on becoming a Registered P.E!!
Please join us in congratulating our Christopher Reighard, PE, MBA on becoming a Licensed Professional Engineer in Pennsylvania! Chris joined our Structural Engineering Team in 2018 after graduating from Penn State University with a Master's Degree in Architectural Engineering. He attained his Engineer-in-Training (EIT) certification in 2018 and in 2021 he also attained his Master of Business Administration (MBA) from Indiana University of Pennsylvania.
"Chris brings a strength and expertise in BIM modeling and rendering that has been invaluable to our team. He continuously strives to enhance his skills and knowledge in structural engineering and new software capabilities. His expertise and his teamwork mentality has made him a leader in our structural division. We look forward to all that he will accomplish in this next step in his career and we are proud to have him on our team!" – David A. Blackner P.E., VP and Principal-in-Charge of Structural Engineering.
Chris's project experience includes laboratory and research facilities for Yale University, Carnegie Mellon University, and Penn State University, as well as projects for several healthcare facilities, commercial buildings, and complex industrial facilities for clients such as Allegheny Health Network, Bank of New York Mellon, and Westinghouse Electric Company.
In his free time, Chris enjoys challenging himself by learning new skills and abilities through physical activity at the gym or on the tennis court as well as growing mentally by reading books that provide different perspectives on life and finances. When he looks for an escape, he finds himself listening to a wide array of music or drawing in a sketch book.
He aims to continue to expand upon his capabilities as a structural engineer while further developing his leadership roles and responsibilities both inside and outside of the office. Additionally, he hopes to give back and pass on what he has learned and experienced thus far in his life to those individuals that have similar aspirations for themselves.
He finds inspiration in the quote, "The will to win, the desire to succeed, the urge to reach your full potential…these are the keys that will unlock the door to personal excellence." – Confucius
Congratulations Chris, we are proud to have you on our team!