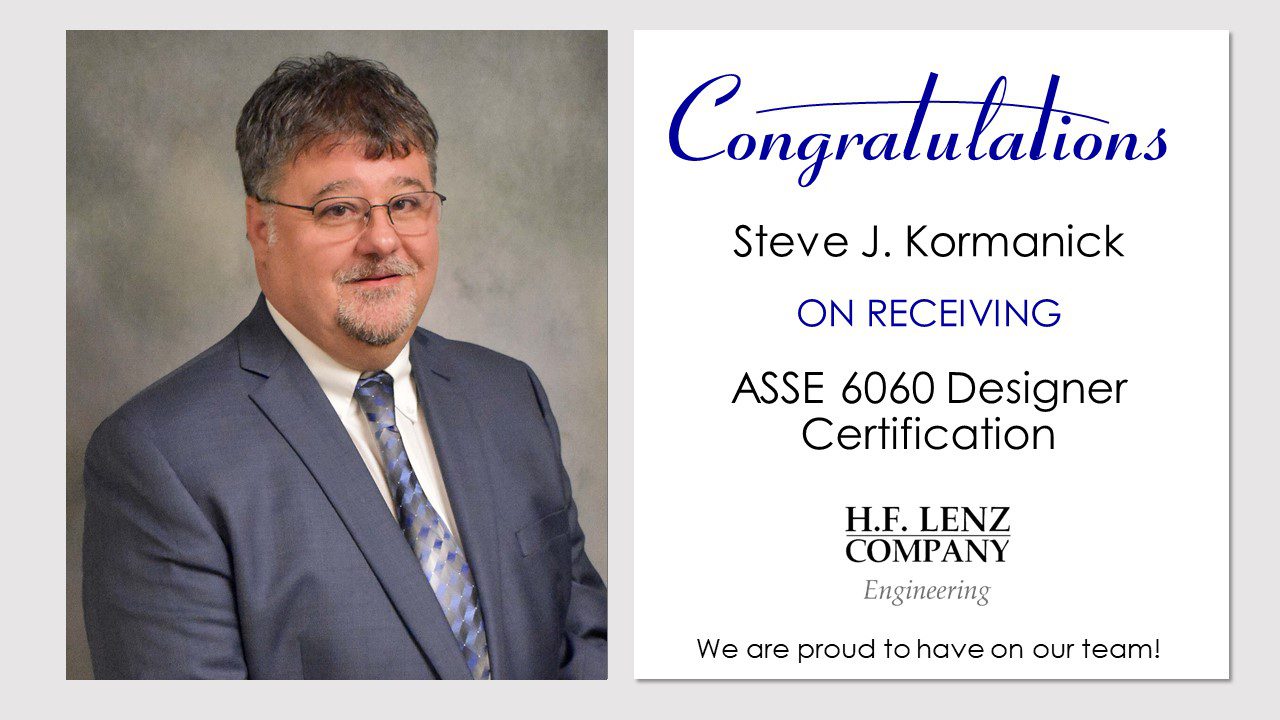 Congratulations Steve Kormanik on Recieving ASSE 6060 Designer Certification
Congratulations to Steve Kormanik for successfully completing and passing the certification test to receive the ASSE 6060 Designer Certification!
Earlier this year, Steve was one of only seven people chosen to participate in the initial Beta ASPE MedGas Training Workshop. The 32-hour training course covered ASSE 6060 and the essential requirements of NFPA 99, NFPA 55, FGI Guidelines and other associated elements of design. This is an important credential that many major health care facilities will request and require in the near future to design medical gas systems for their facilities.
Steve would like to thank the H.F. Lenz Company Board of Directors and his supervisors for supporting him and providing him the opportunity to be involved in ASPE as the Region 2 Director and Society Board member. His involvement and participation in ASPE has provided him with the opportunity to participate in this new educational certification program.
"I am very proud and honored to represent the Region 2 ASPE Chapters and H.F. Lenz Company in all the opportunities that are presented to me in this role and capacity." – Steve Kormanik
Steve has been with the H.F. Lenz Company since 1985. He is also a ASPE Certified Plumbing Designer (CPD) and a Green Plumbing Designer (GPD).
#Congratulations Steve, we are proud to have you on our team!
For more information on ASPE's MedGas Workshop visit: https://www.aspe.org/medgas/medgas-promo-page/.
The ASSE Series 6000, initially developed in 1997, was driven by the need to ensure proper training for the individuals installing critical, life-saving medical gas systems. This series is continuously expanding to incorporate new personnel qualifications and certifications to fit the varying responsibilities of those working with medical gas and vacuum systems. Changes in the 2021 revision include updates to terms and equipment now referenced in NFPA 99, the inclusion of a third-party certification definition, and the addition of the new ASSE 6060: Medical Gas Systems Designer standard. ASSE 6060 addresses the qualifications and requisite knowledge needed to design medical gas and vacuum systems and applies to individuals who design medical gas systems, new or existing, including the layout, sizing and selection of equipment and piping, location of medical gas outlet/vacuum inlets, and assessment of existing systems for resizing or replacement.
https://www.aspe.org/pipeline/asse-iapmo-ansi-series-6000-2021-for-medical-gas-personnel-is-now-available/