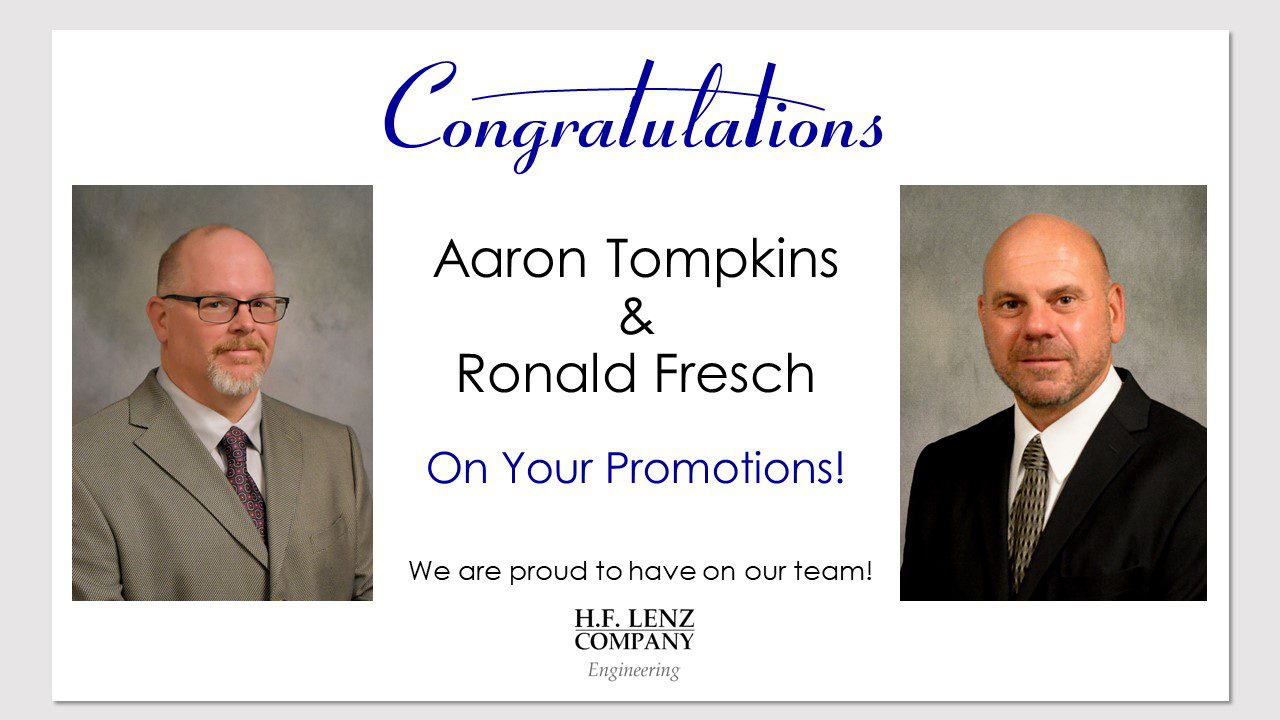 Congratulations Aaron and Ronald on your Promotions!
We are proud to announce the promotions of Aaron Tompkins, CP, to Commissioning Group Supervisor, and Ron Fresch to Field Group Supervisor!
Aaron joined us in 2006 with over 14 years of experience in the construction industry. He has been active in our commissioning projects for over 16 years and became a Certified Commissioning Process Professional (CP), through the National Environmental Balancing Bureau (NEBB), in March of 1999. He has provided commissioning services, retro-commissioning services, LEED Fundamental Commissioning and LEED-CI Fundamental and Enhanced Commissioning services for corporate, educational, healthcare and government facilities throughout the U.S., ranging from campus-wide distribution systems to 850,000 SF multi-office, high-rise buildings to large-scale data center providers.
He holds a Bachelor of Science from the University of Pittsburgh at Johnstown and is a member of the American Society of Plumbing Engineers (ASPE).
Aaron is also an avid Motorcycle rider and loves working on his 1961 Pontiac in his free time. In addition, he is the Head Junior High Wrestling Coach in the Central Cambria School District.
He resides in Vinco with his wife, Jeannette, daughter, Maddie, son, Ayden, cat, Autumn, and dog, Carley. He also enjoys spending time with his oldest son, Brandon, and grandson, Camden.
Ron joined our Field Services Group in 2013 with over 22 years of experience in the construction industry. His responsibilities have included working alongside the client and construction personnel, monitoring and observing construction workmanship, materials, and equipment; enforcing applicable codes during construction; attending construction and coordination meetings; evaluating contractor's requests for payment; reviewing vendor/contractor shop drawings; maintaining accurate field records and reports on all activities as well as construction progress. His technical knowledge, attention to detail and responsiveness has earned him recognition and personal accolades from his clients.
I
n his free time, Ron enjoys spending time with his family and being outdoors hunting, hiking, fishing or lending a helpful hand. He also enjoys hanging out in his garage woodworking or cooking on his Traeger Grill.
Ron resides in Richland with his wife, Jodi, daughter, Katie, son, Eli, and their two dogs, Daisy and Hazel.
"The promotions of Aaron and Ron were important to better position our talented team and continue to meet the operational needs of the company and of our clients. As we worked through the process of Brian's partial retirement, it gave us the opportunity to review our current internal structure and evaluate how we can align our capabilities and our talented staff to better support processes, strategies, and training, and best serve our client's needs. Both Aaron and Ron have strong technical backgrounds and the leadership skills to continue to grow our team and enhance our services for our clients." – Steven J Gridley, P.E., Senior Vice President of H.F. Lenz Company.
We would also like to give a huge shout out to our Brian Rager! Brian has been with H.F. Lenz Company since 1980 and served as the Field Services Supervisor for 29 years. He has decided to enjoy partial retirement and step down to a part-time position, however, he will still be available to provide the same dedicated service and project oversight that he has always provided to our clients and our team. We are grateful for his service over the past 42 years and look forward to keeping him around as long as possible!